Reviews from Our Customers
Good morning,
Thank you for your response.
Attached you'll find 4 pictures of my 2006 Mustang GT.
I had it wrapped in vinyl that matches the interior(approx. $350), and it really adds to the look of the Pony.
I live outside of Detroit, and yeah... it's a head turner!!!
Thanks.

Sincerely,
John D. Gearhart Sr.

"If you're living like there is no God... you'd better be right."
2 Cor 4:15-18
Date: 10/18/2016

Hi, I am an existing customer. I purchased a few cowl hoods from you. Couldn't be happier and I get compliments non stop.
I just passed on your company info to some interested people. Also I posted the ph number on a fox body facebook page.
So expect some more sales soon!

Jon

Date: 9/13/2016

Looks AMAZING!!!!


Thanks

Jose B. Rodriguez
Sanford, FL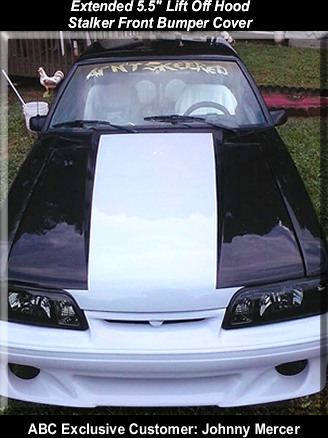 Date: 9/1/2016

Love this hood might get one soon I got some parts from y'all
and I am well pleased I love the front bumper the stalker I got from you
looks so good on my mustang thank y'all so much.

- Johnny Mercer


Date: 8/31/2016

I bought the GT ground effects Cobra style scoop delete piece from you guys last year and have got to say it was the final piece my car needed to set it off. The fit was good, not perfect, but nothing to complain about, It needed to be adjusted a little bit to fit right, but as expected with a fiberglass piece. I get complements all the time and questions on the scoop delete piece and where I got it from. It was nice to be able to still use my stock side skits for the front half. Keep up the great products like this!

- Brandon Leather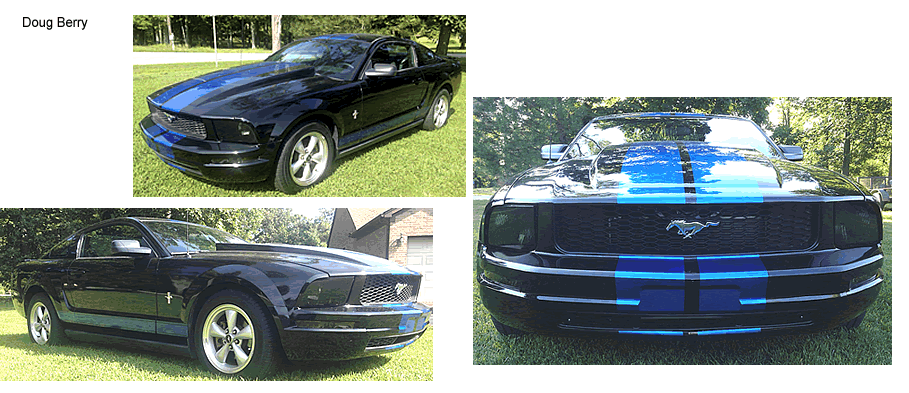 Date: 6/5/2016
From: Doug Berry's 08 Custom Stang by K7S Autobody
Subject: Cowl Hood 2.5" for my 2nd '08 Convertible

Our second hood from ABC Exclusive and again another quality hood!! 2.5" rise Cowl Style with open rear vents with screens.
Thank You!

-Doug Barry


Date: Thursday, June 25, 2015 6:38 PM
From: Philip Lemieux
Subject: Saleen Wing Type A for Lime Green Mustang :)

Hello! Wanted to thank you again for another great part.
It was shipped very fast and was packaged perfect. The wing also fit perfect!
My mustang will be competing at Extreme Auto Fest in san diego,ca July 25th
and i'm very excited to show off your parts I purchased.
Thank you again and here's some updated picks of the saleen wing and the saleen speed bar!


Date: Friday, August 26, 2016 2:15 PM
From: Doug Berry
Subject: Cowl Hood 2.5" for my 08 Convertible

I wanted to share this good looking hood with you.
My bodyshop buddy and myself are extremely impressed with the fitment and the workmanship of the hood you guys made.
Since we love this hood so much, I am ordering another one for my new car, I will send pictures in after it's painted.

Thank you again!
Doug Berry
Date: Thursday, May 14, 2015 1:49 PM
From: Ron
Subject: Thank you!

Hello Nick and Crew,
Attached please find a pic of my 2005 Mustang GT with the SHE 500 Hood I bought from you.
It looks aweome thanks so much for all your help!

Ron Mays
Date: Sunday, March 22, 2015 1:47 PM
From: Casey Denton
Subject: Cowl 5" hood

Thank again you guys, great to have all the hard work covered up by a beautiful quality hood!
Casey Denton
OKC, OK
Date: Tuesday, February 17, 2015 2:13 AM
From: Philip Lemieux
Subject: Custom mustang with abc exclusive saleen bar

Hi here are some pictures of my car with your saleen speed bar installed.
Wanted to present these pictures for your customer photo gallery or for your website.
Thanks, Philip
Date: Wednesy, January 7 2015 2:43PM
From: Christopher Ladd
Subject: SVO Style Covers


My name is Chris Ladd. I'm 38 and I live in Danville Virginia.
My car is a 96 Mystic Cobra with a Kenne Bell Supercharger. I made those tips from scratch.
Here are the covers I bought from you guys two years ago. Had a buddy make the SVO letters.
The side pipe looks great!
Date: Tuesday, October 21, 2014 5:42PM
From: ronaldrwtarver
Subject: Wanted to send you a picture of my cover after it was painted

Great product, fits like a glove!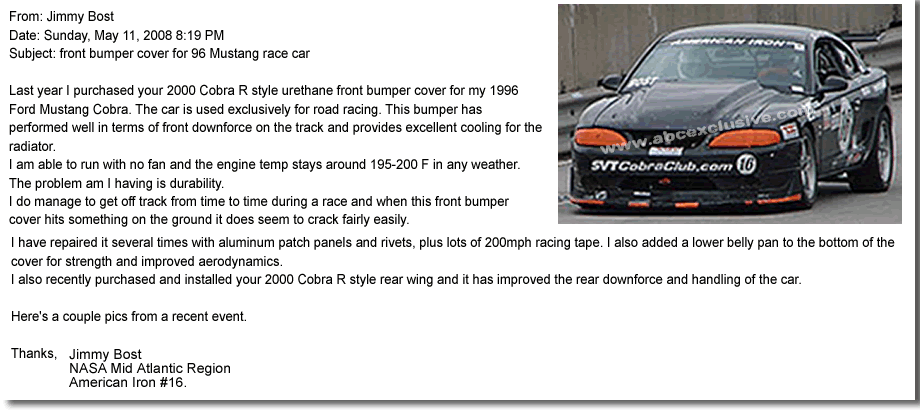 Date: Saturday, March 11, 2000 12:22 PM
From: Matt Brandt
Subject: Stang Parts

I don't know if you remember me or not but a while back I inquired about a 2 3/4 cowl hood and some other parts.
I recently purchased them from ABC and I must say that I am more than pleased with the quality of the parts.
I ordered the 2 3/4 cowl, a cobra wing and the cobra front grill for my 88 lx and all I can say is that you guys kick ass.

When I brought the parts to my body man he was more than pleased with the products.
You know as well as I do that body men do not like to prep wavy fiberglass.
So this is a letter of appreciation to both you and your company for a job well done.
When my stang returns from the body shop (painted Ford Mystic) I will send you a picture so you can see the final results.
You have a customer for life and I have already recommended you guys to fellow stang owners..
Keep up the good work and thanks again!

Sincerely,
Matt Brandt
88 Lx
Date: Monday, February, 2000 10:00AM
From: Josh Davis
Subject: Hood

Hi,
I wanted to let you know that I just received the Cobra RR Hood. It's a beautiful hood just as what you told me.
I am very pleased.
Thanks,
Josh
Date: Monday, June 13, 2000 9:05AM
From: Randy Johnson
Subject: ABC 800 Ground Effect Kit

I just wanted to let you guys know that I am very happy with your 800 kit.
I finally put it on my car and it fits like a glove. I have nevery seen any kits fits that well
Your company did an awesome job. Keep up the good work!!

Randy
Date: Thursday, September 22, 2000 11:32AM
From: Steven R
Subject: Thank you!


Dear ABC Exclusive,

Thank you for taking care my order so promptly! I would like you to know that your sales persons are very helpful and friendly on the phone, they were very patiented to explain the differences on the parts, (which I would have made ethe wrong order again.)

I recommanded you guys to my Stang club members. By the way, my buddies love your styling bar and the speedster tonneau covers, they will be calling you!

Your very pleased customer.
Return Policy
ABC Exclusive parts are not OEM, they are aftermarket unfinished parts. All comes in black primer and ready for paint. Like with all unfinished auto parts they need to be test fitted and prepped before painting, some modifications or small repairs may be required.
For returning the parts must be returned freight pre-paid, in new unused condition within 14 days of sale.
There will be a 20% restocking fee inorder to recover our expenses such as shipping, boxing, repackaging and resotcking.